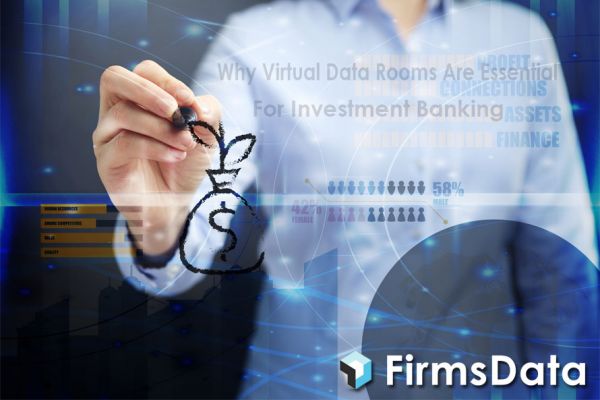 We cannot deny the influence of the Internet and Technology in the banking sector, but the branch of banking that has incorporated the most advanced means of technology is Investment banking. This is possibly due to the involvement of the client's money and the sensitivity around it. In recent times, investment bankers are majorly relying on Virtual data rooms to store and share their data as they feel it necessary to ensure the security of crucial data. Also, employees working in investment banking need to manage a huge load of statistical data, keep track of client's assets and keep a list of companies that are potentially beneficial when invested in.
In other words, Virtual data rooms have become a staple for investment banking to regulate the processes of buying, selling, or recapitalizing a business.
What Exactly an Investment Banking Data Room Is?
An investment banking data room can be defined as an online storehouse for your data files. It is originally an online file repository that ensures the round security and ease of accessibility of the stored files. Not only this, it allows you to share the file with your collaborators with the desired limits to diminish the risk of a data breach or data loss.
A VDR for investment banking consists of various tools that help you manage the access rights of the files and set the time restrictions on the sensitive data to limit its misuse. Furthermore, with this you can track every activity taking place inside the file; it only offers the overview to people who have authorized access to the file for protecting it from external or unauthorized access.
How and Why Investment Banks Rely Upon Virtual Data Rooms?
As mentioned earlier, investment banks are always wary of the sensitivity of the documents as a data breach can put quite a lot of risk on the stored data. There are several reasons why Virtual Data rooms are popular among investment banks to store data files.
Easier Document Storage

: Banks need an easy-to-access place to store their crucial files. Earlier, physical data rooms were serving the purpose, but neither they were secure, nor handy. Therefore, they made a switch to a virtual data room that ensures the overall security of data using several security tools that were not available with physical data rooms.

Deals and Transactions

: A large transaction involves a heap of documents. With VDRs, users get complete transparency of every nick and crook as every M&A deal requires persistent diligence and it can only be achieved by tracking every move of collaborators. This will help you get a clear picture of the intents of other parties by tracking how much time they have invested while looking through documents.

Protected Collaboration

: When using an investment baking data room, the risk of data breach declines automatically due to high-end security protocols and access permission settings. It ensures that nothing can be exported from data files and hence offers leak-proof technology. Moreover, every action that took place inside the space where the document is stored, is traceable by the owner through the comprehensive reports about spent time and nature of changes.

Higher Affordability

: Physical data rooms were quite expensive, unlike virtual data rooms that reduced the holistic deal cost as it doesn't require spending money on renting a space, hiring staff, or thinking about the safety of documents during the meeting sessions in a physical space.
How to Select an Investment Banking Data Room?
Several factors should be considered while picking a virtual data room for your investment banking requirements. Here below we are providing some useful tips that will help you select a perfect virtual data room to meet your needs.
Make a list of required features

: Start by making your mind about features you require in a VDR. From the number of users who can access data files, the nature of deals taking place, to the period for keeping the VDR, answers to all these questions will help understand what sort of VDR will meet your needs.

Fix a Budget

: Make sure you have a clear idea of how much money are you comfortable spending on new technology. VDRs are available in numerous price ranges; you will get a variety of options ranging from inexpensive to premium packages.

Do a Thorough Research

: As VDR technology is booming, a new variant of it rolls out every other day. Therefore, make sure you thoroughly check all the reviews, ratings, pros, and cons, before you make a judgment. Online reviews are the best to get an idea of the effectiveness of VDR. Usually, every VRD software provider owns a website that contains related information about the tool.

Check for Free Trial

: If you want to be sure before paying money, it's best to pick a VDR that is available through the free trial version.
Takeaway
Investment banking demands blood, sweat, and tears. Therefore, bankers often look for the tools that make their tasks easier and offer top-notch security. A virtual data room is an answer to all their prayers as it offers encrypted space for deals, collaboration, and storage.