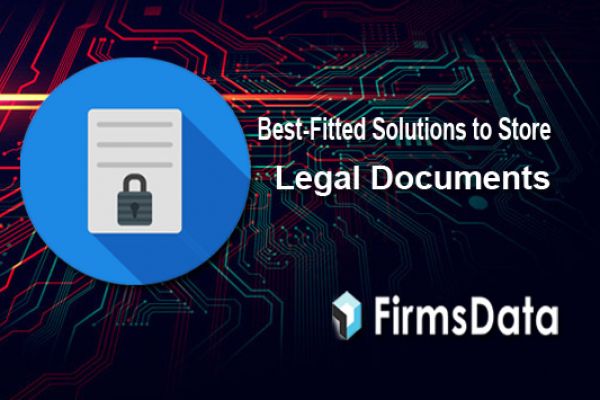 Store Legal Documents Securely With a Virtual Data Room

Virtual Data Rooms has come out to be a boon for the field of Merger and Acquisition. Well, a decade earlier, tracking and maintaining the legal records and documents was strictly constricted to the paper and pen approach, but it was neither easy nor secure. Law firms were stuck with the obsolete and tedious method until the arrival of VDRs, the technology that changed millions of lives. Law firms wasted no time and made an immediate movement towards VDRs for managing their sensitive as well as crucial data. In very little time, law firms fully incorporated VDRs into their work regime for storing and sharing their valuable data more safely and efficiently.
The work system of law firms before the dawn of VDRs was quite disorganized because the data and documents for every particular case were stored in physical rooms and difficulty in arranging, tabulating, and organizing documents led to several administrative issues; sometimes it caused a complete system breakdown. It wasn't very easy to maintain the chronological order to file in the physical data rooms as it used to take intense manual efforts. Not only storing but sharing the information was equally tough, as whenever a review or discussion was required, the clients, especially the M&A bidders, have to be present at the law firm and this was causing a whole lot of physical and financial strain due to traveling within cities, courtiers and even continents.
These potential drawbacks of physical data rooms forced law firms to make a switch to emailing which was considered to be a more convenient option back then. However, it did not take long for law firms to discover the emails can be breached at any moment, hence are not secure, especially when there were multiple bidders involved in the M&A process. In addition, there was no control over the shared documents and this escalated the chances of documents being misused, mainly those when they contained confidential information. Now, the technology that can fulfill all these parameters was required for a safe and secure sharing and storing of data. Well, all this became possible only after the advent of cloud computing that brought forth the VDRs. It became a great substitute for old-fashioned physical data rooms and an unsafe process of emailing.
The reason that majorly attracted lawyers towards virtual data room (VDR) technology was the possibility of auditing trail of who has viewed the shared documents, how long, and how many times. This positive aspect of VDR, instantly made it popular among the farsighted law firms. Apart from this, the control over the access of certain documents and the possibility of restricting data to a few particular users acted as a cherry on the cake, because this feature was much-needed to maintain to practice better accuracy and efficiency.
The next major highlight of the virtual data room (VDR) was its advanced security that was built with several protective layers to eliminate the potential threats and risks by creating barriers over the stored data.
The virtual data room (VDR) servers are not left-loose and monitored under round-the-clock surveillance of proficient security experts, therefore the security of data is pretty much guaranteed. The VDR servers are armed with effective multi-factor authentication, a potent backup power source, advanced firewall systems, complex virus scanning software, and accidental recovery. Moreover, the data stored in VDRs is held under the state of the art encryption combined with watermarking upon printing to control the misuse of intimate information. VDRs leave no stone unturned when it comes to the security of data and documents that are highly vital to users.
But, with all the complex security, there is no complication with the accessibility as everything is organized neatly to save time and effort. Above all, the information can be accessed and viewed by multiple people as it is the major need of the M&A process, but the security is not compromised in any case. Being that said, VDRs allow users to access their stored data even on their mobile devices for uppermost convenience. Unlike physical data rooms, VDRs allow users to make a particular and precise search to make it straightforward to review data without investing much time, even when the time horizons vary.
The next compelling feature of VDRs is the customizable room structure that can be designed and altered as per the requirement and preferences of the users. With assured security and far-reaching ease, VDRs deserve all praise and popularity in the tech-inclined world.