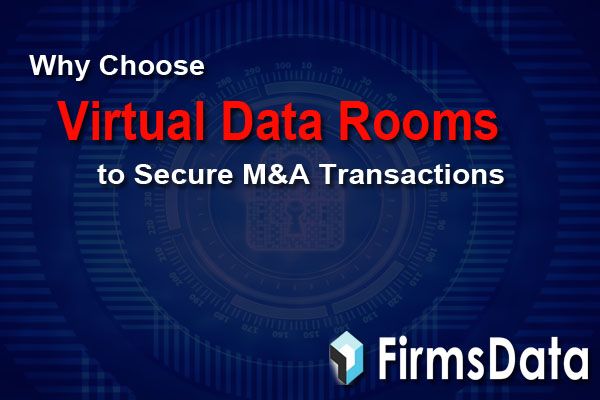 A minor glitch in an M&A deal can cause restlessness among buyers and sellers as it can set too much at stake. Not only company time, but an insecure M&A transaction can exterminate important deals. This is when Virtual data rooms come to the rescue as they are designed to provide a secure environment to share and store sensitive data. This blog will talk about how Virtual Data rooms are making the lives of stakeholders easier by enabling them to work more effectively and securely.
Let's first understand what exactly a Virtual Data Room is?
A virtual data room can be defined as an online space and cloud solution that allows users to store and share sensitive and crucial data files, usually for legal proceedings and M&A transactions. The major highlight of a virtual data room is the control it provides to the owner to manage the access rights of other parties over the shared data. One can share data files with partners and potential buyers in a controlled manner to prevent the misuse of vital or sensitive data.

Virtual data rooms have rapidly replaced physical data rooms as the former has the upper hand due to higher security, cost-effectiveness, and ease of accessibility.
A standard virtual data room consists of Q&A tools, advanced access permission, notes, and multi-factor authentication. Virtual data rooms have ascended to be an all-in-one solution to security concerns that tend to invite security threats and data loss.
From contacts, employee details, financial transitions, to intellectual property records, virtual data rooms are a perfect fit for every data-storage need.
The traditional physical rooms that used a paper-based approach to store data were not handy enough to deal with the advancing needs of data security. Thus, virtual data rooms are demonstrated to be a flexible digital evolution that not only stores data but also transforms processes.
Importance of virtual data rooms in terms of security
With the ever-increasing craze of digitization, a new way of storing, sharing, and sending information emerges every day. But the question here is, are they all potent enough to refract from cyber-threats? Studies say, a sharp rise of 667% has been witnessed in email scams post lockdown, and this has been a setback for various giant organizations.
Nevertheless, virtual data rooms bypass all channels that can impact data security and share information in a confined manner.
Ways in Which Virtual Data Rooms Secure M&A Transactions
By Controlling Communication
Issues arise in M&A activities when users start using insecure platforms such as emails. However, virtual data rooms bring the solution for this problem as it provides the safe and creative options to communicate and work on important documents.
For instance, a safe virtual data room consists of encrypted chat features that are highly intimate. Our data room solution has a secure messaging module that allows users to send and receive private messages. It works as a bridge between mail and chat that give flexibility to the users to communicate with team members.
By Controlling document storage
Another issue pops up with M&A communication when people use cloud-based services for sharing crucial documents. These services have drawbacks as they are designed for standard users, but can't be used on enterprise levels.
A virtual data room is a solution for this issue, as it provides the safest place to keep and share documents without compromising security. Additional services are not required with virtual data rooms. Moreover, users can comment and add notes for other authorized users that reduce the task of updating individually.
Few data rooms are highly advanced and loaded with incredible features like creating data for key processing without adjusting or creating new files. For instance, Q&A information can be built for Q&A modules inside the data room system. This feature helps to boost efficiency and reduce the efforts of creating separate sheets. A virtual data room stores all your data and files safely inside the platform.
By Controlling access
Having full control and access to your important data files allows you to breathe freely. With a Virtual data room, you will get total control and access to your administrator panel. This feature is perfect for flexibility and security. If a buyer discontinues the process, this could be a threat to safety but with virtual rooms, you can restrict their access to the files and can give access to the new users.
The virtual room gives control over access, you can set the levels for it. This feature lets you keep an eye on the other user's activity related to documents, and folders. Additionally, it allows you to set the user rights, to give you complete control.