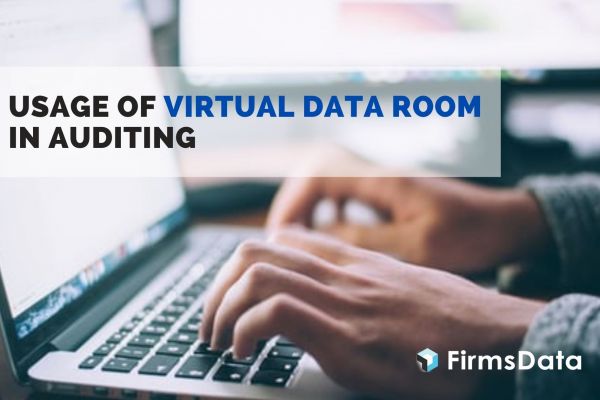 The use of VDR in the Audit process will make the whole process significantly easy, transparent and reduce time and expense in managing the important confidential documents. In covid-19 times visiting the corporates offices for Auditing is not convenient and rather stressful, FirmsData's Virtual Data Room is there to meet your need for sharing any confidential files.
Role of FirmsData Data Room in the Audit process:
FirmsData VDR solution can serve the following purposes in auditing:
Confidential File Sharing: During the financial auditing process a lot of documents need to be emailed or couriered but with FirmsData Virtual data room needs for all this vanishes.
FirmsData VDR offers a solution that helps corporates to structure their data in a manner that is easy to access for the end-user and convenient to navigate through. Features like Auto-indexing, bookmark document, and 'recently viewer' tab makes the user dashboard user-friendly and time-saving to use. Any file shared will be 256-bit encrypted end to end. You will also get a record of all the activities done also helps you to share the data with all the participants.
Audit-trail: Every activity on the system is logged with details like a time-stamp, IP address, action taken, and time-duration of the activity.
Quick Communication: Through the Q&A option you need not worry about any query for important documents. The auditor will just post his question about the document for reviewing and you need not answer the same question again and again.
Security of Documents: With FirmsData Virtual Data Room you need not worry about your data stolen or lost. We offer a high level of security ranges from different permission like View, download watermark files, Customize NDA. With this range of security, your audit process will be carried out more safely. The entire system is hosted on Virtual Private Cloud on AWS which adds an extra layer of security.
How FirmsData's Data Room use for auditing:
As we have explained earlier how we can reduce costs and handle sensitive files with leaving no gap for theft with the use of FirmsData Data Room.
· Exchange Documents
· Smooth communication
· Ease of tracking
· Top-level security
A financial audit is necessary for any modern-day company. The audit process is also the most time-consuming activity in the business world hence it requires a technical approach.
How Data security can be achieved through FirmsData Data Room for auditing purposes:
Data repositories in the audit process can allow companies to track the data, user activities, View and download records who have seen the files, comments for board members, auditors, and investors, and perform many other tasks which will simplify the process. All enhanced security features will guarantee the files which are shared FirmsData Data Room gives the audit participants such an opportunity.
During the audit process, the issue is specifically crucial because the data shared with auditors is of top security and should be kept confidential. The file may contain a watermark with the name of the user who has viewed the file or downloaded the files along with the time and IP address. Strict regulation of user access and strict authentication process are also some of the features offered by FirmsData Virtual Data Room.
In this way, the use of FirmsData Data Room can be used for auditing purposes and allow keeping all sensitive and confidential data safe and simplify the whole process.